"The Gangster Bike" Lambretta GT200 - John Wake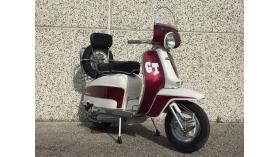 Model: Lambretta GT200
Owner: John Wake

Engine: The engine gonna be totally standard. Whilst the previous owner had rebuilt it correctly and with all new parts, the actual casing is completely knackered. Nearly every single thread has a helicoil in it. There's oozes of Loctite holding the gearbox studs in. There's a nice 5 inch crack along the bottom and the water damage is everywhere- even on the gasket faces where the pitting is so severe that even a surface skim will not sort it out. These will need building up with weld and then machining back. The transfer ports have been opened up 'back in the day' so they too will be welded up and brought back to original. The biggest pain is the actual external finish of the engine casing : this is yet another 'blasted with river boulders' jobbie and will require hours and hours of being painstakingly rubbed down by hand in all those areas where power tools simply can't reach. What a 'mare. Onwards and upwards as they say.

Features: John bought this scooter from a UK based collector and has asked us to restore it. Initially the idea was to do a conserved resto' on the machine but some serious damage to the rear end of the frame and the paintwork being rough in some places, put paid to that idea. John is a perfectionist so has given us a complete run-down on everything he wants doing, and a brain storming session with Marco in the workshop got all the details decided for us to complete the resto'. The scooter is reasonably original and comes with a wonderful number plate. The idea is a do a street machine with one of two tasty period accessories to enhance the GT200's looks, but the emphasis is on the fact that John wants to use the scooter so it must cut the mustard in both looks and usability. Shortly we'll be on the way with the job and hand and we'll keep you posted on progress.