Lambretta TV175 Series 2 'Ridgeback' - British collector, UK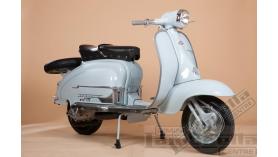 Model:
Lambretta TV175 Series 2 'Ridgeback'
Owner:
UK collector
Details:
This is a scooter owned by a noted UK collector and he already has several RLC machine in his private collection. This time he gave us an early 'ridgeback' Lambretta TV175 Series 2 to restore. It was in quite good condition although had been poorly maintained and painted with the wrong end of the proverbial shitty stick. The scooter was not running but that was of minor importance as we had to restore the scooter anyway.
The request was for a bog standard resto' with loads of NOS parts to ensure everything was top drawer and the only deviation from 'totally factory' was be the total absence of burnished/blackened parts & fasteners as these can be very prone to rust.
We stripped the scooter, had it blasted and then repaired the metal parts where needed. The welding on the frame was pretty atrocious (as with most ridgeback TV's) and needed a lot of work to make it aesthetically pleasing. It was then totally built up as a 'dry build' to check alignment and then stripped once again before heading off to the paintshop.
The engine in the meantime was stripped and given the same treatment. The back underside of the casing had taken a massive knock and had been poorly repaired back in the day. This was sorted out and after hours of welding, filing, welding, filing, welding…..etc. etc. it was back up to the mark. The gasket faces were then all skimmed – as with all RLC engine rebuilds – to ensure gas tight sealing and no oil leaks. The motor is totally standard and we sourced NOS parts in abundance for the rebuild. Being an early ridgeback TV2, this has loads of quirky parts such as the brown coloured rear mounted junction box for example and although these are mentally hard to find, we sourced one that was mint as the original was completely smahed up. Couple this with NOS Michelin ACS tyres and it's these touches that make all the difference to the end result.
Our painter Rokka did his usual magic on the bodywork and dare we say this, even excelled himself. The paintwork is like glass. The original light blue is a lush colour indeed and it's wonderful to see it all finished in time for the owner to use it for the forthcoming Italian 2017 Euro Jamboree rally that he will be attending with this scooter.