Display engine + wheel from Lambretta LI150 S1 - Bill, Scotland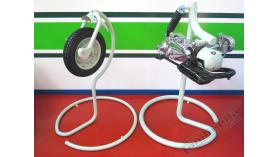 Model:
Lambretta LI150 S1 - Bill, Scotland
Owner:
Lambretta LI150 S1 'Framebreather'
Details:
Recently we restored a Street Sleeper style Lambretta Series 1 for a Scottish customer (as seen here in the RLC Gallery page). The scooter looked completely standard but was fitted with an all singing and all dancing CasaCase motor topped off with a BGM225 kit and a very discreet double disc up front. The owner of the scooter has loads of various vehicles and is quite partial to attending custom & vintage shows. He asked us to completely restore the now redundant original engine and front hub from his scooter and rather than just store them away, he asked us to put them onto purpose-made, rotating display stands (the upper halves of the stands can be spun 360 degrees). After a bit of searching about in the scrap bin at the back of the shop, we found an old bent Series 1 fork and a piece of a Lambretta frame (that had been turned into a stationary engine mounting back in the 70's, but that's another story….).

Out with the pipe bender, the welder and several hours later, the whole lot was then sent off to be expertly painted up the same River Grey colour as the restored scooter. Sorted.