Lambretta TV175 S2 305cc Street Custom - 'Mad Farmer', UK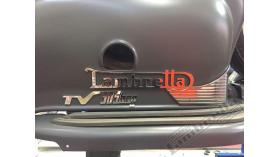 Model:
Lambretta TV175 S2 / 305cc
Owner:
'Mad Farmer', UK
Details:
This TV175 Series 2 will be the basis of a 60's Custom scooter, with a huge modern slant. The owner, who goes by the unlikely moniker of 'Mad Farmer' wants a full-on RLC resto' but has a lot of his ideas that we must bring to life. He came over to Italy to work things through with RLC's Marco and together they laid down the plans for the build in an all-day brainstorming session. The scooter had already been worked on by a few other people but it seems no-one was able to finish it to the owners guide-lines.

Basically the scooter will be given a race type 'sports' paintjob along the lines of a 60's racing car in Aston Martin colours, Lambretta logos reworked with a 'Norton' font, centrally mounted hinged tank and a BSG305 engine to power the show.

Both petrol tanks are custom made and are to be linked. The 39mm Dell'Orto carb on a BSG engine has an unusual exit point (behind the kickstart side engine mount) and an extended toolbox has been made to give a few more litres and we are at the point where most of the fabrication is now complete. A final dry build will ensure it all fits well before being sent off to be painted by RLC's painter, Rokka.

Update: The badges have just arrived and very nice they are too. They have been made to the owners request that the style of the font is that of the Norton motorcycles adapted for use on a Lambretta.
Update #2: frame & bodyparts just come back from the primer, so Marco can start the second dry build, the last before the final paint job. Lot of incredible metalworks done: holes for additional tank's tubes, carburettor special peak and a small repair on Vespa SS90 fuel tank before treatment. Front Serveta Winter model mudguard now has a chrome crest to match with the paintjob! And please note how our classy touch magician (Top Secret) has make the Lucas brackets for legshield fitting....
Update #3: Operation Rev Counter has started. Lorenzo works on mechanism alignement beetween front spockets and sidecasing hole. Let's go old school!
Update #4: some parts are back from "the bling bling treatment" and are ready to be fitted.
Update #5: the scooter is now partially painted and almost ready for the final paintjob. We've made some attempts for the oval racing number plates and the overall look is simple stunning!!!